Terry Byrne talks exclusively with TIAS about the relaunch of the New York Cosmos (and that book about his buddy)
—-
This is what we know. The New York Cosmos are back with intentions on being the 20th MLS franchise in 2013. It's run by famous industry names like Paul Kemsley, Terry Byrne, and famed advertising executive Carl Johnson, as well as more locally entrenched talent like Giovanni Savarese and Joe Fraga. They got Pele as the honorary president. They purchased Copa NYC (soon to be called Cosmos Copa), a citywide amateur World Cup of sorts. They've obviously got some money, not just because of the ownership group's personal assets, but because they launched youth academy teams in New York and Los Angeles, both of which will be free to players. They have a partnership with Blau Weiss Gottschee, the most historic of the city's elite youth clubs. They launched a branded official size soccer ball and kit, produced by Umbro, which signed on as kit and equipment sponsor. They have a website, a Twitter account, a Youtube, Flickr, and Facebook page. They have as of yet, however, no men's team, professional, amateur, or otherwise.
But for a club with no men's team, no MLS franchise for at least a couple more years, it sure seems like everyone is talking (or complaining) about the Cosmos…
Behind a nondescript door and up an elevator in Manhattan's SOHO neighborhood, the wheels are turning. The Cosmos office is long and narrow, with freshly painted sheetrock on one side and exposed brick on the other. Dangling chandeliers line up above a monster work table that occupies nearly the entire main room, which fronts a few glassed-in offices for the executives where a life-sized cardboard cut-out of Pele stands guard. Cosmos memorabilia, business plans, kit mock-ups, and plenty of pictures of Pele cover the bright white walls in swatches of green and yellow nostalgia. The space is raw and open with dashes of urban modernity, like just about every upstart business with enough money to afford the pricey lower Manhattan rent. As the Cosmos simultaneously look back to the past in order to get to the future, the office reflects that feeling. So much history; so much promise; still so much work to do to. What will it look like down the road?
The day-to-day work falls largely on the shoulders of two men. My conversation with Executive Director Joe Fraga about the grassroots efforts of the club since the relaunch three months ago will run later in the week, but first TIAS sits down with Director of Soccer Terry Byrne…
TIAS: Let's just start with where the Cosmos first came up for you. Give me a bit of timeline on your knowledge of it, and then participation.
Terry Byrne: It's been two years since PK (Paul Kemsley) came to me. He called six people in London—me, I was working with David Beckham at the time, Thierry Henry's agent, people that he knew from football. He called us all to his office and just said, "I want to throw an idea at you guys, appreciate your input. The New York Cosmos." So the questions became about cost of a MLS franchise and all that stuff, and everybody had a different opinion. I just said, look, personally I would like to be involved because in 1979 I played here in Huntington, New York, and I went to watch the Cosmos train. Part of my career path if you like—I've spent 20 years in the UK in soccer and started out as an equipment manager, became a sports masseur, physiotherapist, a director of football, and David Beckham's personal manager, worked with the English national team for 10 years. And now, for me, it's just a progression, and I've got now a project unlike any others I've worked on before.
I put in 10 years at Chelsea. When I first started Glenn Hoddle was the manager, and we hadn't won a trophy in 27 years. Then all of a sudden between '97 and 2001, we won six trophies, because we had the likes of Gianfranco Zola, that era if you like, where we had huge success. I was part of a movement in that club before Abramovich coming to Chelsea. We went to another level, which then encouraged Abramovich to take it to another level. That's what I think we are here. I think we are on the cusp of something massive. I'm under no illusion of what we have to do to achieve and get to those goals, but we've gone from probably 6 people after one year to 16 staff after two years, and we've also got 25 coaches in one academy and 25 in another. So we're up to about 70 people on the payroll. So, the scale and the enormity of the project, I'm under no illusion.
I'll always remember one of the first meetings I had with Dan Cherry, one of the brand directors we have here. He said to me—we were talking about the badge and how with the Cosmos, it's not our club, it's the people's club; it was always the city's club, and we have to respect the heritage and try to contemporise it, and give it a rebirth. You can't replicate what it was, because what it was, was about a time in music, fashion, an era, a movement. All of those things, whether you are talking about marketing, communications, the soccer element, the academies, the CSR (corporate social responsibility), it's a huge project, but an exciting one.
I probably wouldn't even think of this or ask if not for the recent news over Liverpool, but did you or Paul have any hesitation in two Englishmen coming into New York to run a club?
There was a level of trepidation on our part more than anything else, to say, you know we're three Brits effectively, if you add Carl (Johnson, CEO) into the equation, we were three Brits coming in to effectively run a New York team. I look at the Glazers at Manchester United, and their popularity has not been huge, and what has happened with Hicks and Gillette at Liverpool. You can look at Randy Lerner, who has done a fantastic job at Aston Villa. I think it's not the nationality; it's what you do. If you back up what you say you're going to do, people will respect you for that color, creed, and race, irrespective. Wherever you may be from, I think if you've executed what the people want and done it the right way, which is what we're doing, it shouldn't matter.
—-
The biggest challenge for us initially was grassroots soccer. We have to build from the ground up. If you imagine this is a dormant brand that laid dormant for the best part of 30 year—one man alone looked after it and nurtured it as his baby. I've seen a lot of derogatory remarks about Peppe (Pinton, former owner of the Cosmos); the only thing I can say is that I am extremely grateful to him because he kept it alive. He sent day in and day out letters to people who wrote in. He polished trophies—we've got the original trophies from 1977 because he's kept them in pristine condition. He has 1300 hours of Betamax video. He's given us a great bill to digitize it all, but I have to say I've got nothing but respect for the man. And the one thing that convinced him to sell to us as opposed to others—I think other people offered him a lot more money, but I think he saw in Paul someone who has a vision and entrepreneurship that Steve Ross had. He said to PK, "You're the closest thing I've ever seen to Steve Ross with regards to your ideas. Whether you can execute them or not I don't know, but you promise me that you will try to get to that, that's good enough for me." And Paul is always adamant that Peppe will have his day. At our first game, on the middle of the pitch, standing there in front of 77,000 or whatever we hit, Peppe will have his moment. And that will be his justification for doing what he did by selling to us.
So if there are 70,000 people there, what stadium is that going to be?
I dream of the New Meadowlands personally, but I think long term, absolutely there will be a new stadium, in Queens probably. That's the plan.
So that means the Wilpons will be involved? Where are those discussions?
Between now and next year there will be a lot more advance in conversations and actions. In the last six months there has been three or four meetings, all positive, both with the MLS and the Wilpon family. Who knows? What I do know is that we have the funding in place. It's real for us to achieve buying the franchise and building the stadium. And now that we have that funding in place, we will try to do everything in our power to make it happen in terms of where, with who, and when.
What can you tell me about of that funding?
We have private investors. Paul put a lot of money on the line. A lot of personal money on the line.
The big story about him before the Cosmos was the bankruptcy of one of his companies.
I've only known him for four or five years. I knew him from when I was at Chelsea; he was at the back end of joining Tottenham. Anybody who built a business to near on a billion dollars from nothing has some special kind of gift. He has a vision, so much energy, and with regards to his own business going under, I think you will find that what actually happened had nothing to do with him. Ironically, it was part of a partnership he did, but more importantly, what money he was then left with after that, he has plowed a lot of money into the Cosmos, put his own money on the line, and his money where his mouth was. Then he sought private investors, which he has gone on and done, to give us the security and knowledge that we could underpin what our dream was. All secured, all done, but it's really him who is behind it. And how much is it? Enough to build a stadium in Queens and enough to buy a MLS franchise.
Or pay rent at Meadowlands?
I think that would be a temporary solution for us. I don't think it would be long term.
If you wanted to launch in 2013 in your own stadium, that needs to happen sooner than later now. Are you set that that will not be the case?
If anybody says you can build a stadium in 6 months, they are probably exaggerating, and if builders here are the same as they are in the rest of the world, a lot longer in the making than what they say at the outset, but knowing that the funding was in place was the primary concern, and that funding is now in place. So we are all systems go on building a stadium.
—-
Joe (Fraga, Executive Director) talks about phases (that interview later in the week at TIAS). Phase 1 being the launch and youth clubs and marketing. The funding to me seems to potentially ring in another new phase. Just to stay with that term, what phase is next?
If you said to me how many phases there were, I'd say probably four. And we are in phase two. Phase three now will start in the New Year, when we probably announce what games there are next year and who will play for the Cosmos the very first games. Beyond that, next year we intend to have three inspirational games worldwide. 2012 would be probably six games and 2013 going into MLS. Now, the best plans in the world you set out with a vision and a timeline, but you won't always necessarily hit those timelines.
So you would like to go into MLS with a full squad basically?
Completely.
Without even the need of an expansion draft?
I think part of the league would require us to have that, but our plan from building an under-8 team to an under-18 team and bring Gio Savarese and Teddy Chronopoulos in was to build that future production line for the Cosmos. We know already we have some good kids, and we need to hold on to them and protect them, nurture them, make sure they become good people. Some we will lose to the college draft system, some may want to go directly into the professional game, but I do know already in my heart and head that we have some kids that are wearing a Cosmos shirt either in LA or in New York, that will play for the Cosmos first team, and I think that principle of why we did what we have done—and the academies we've spent millions, you know? Over the last 12 months and the next 12 months, we'll have spent a couple of million dollars.
And that's pure investment. I guess you get a marketing kick in and around those kids and communities, but many would say there is no payback there, short of years down the road they become solid players. There is no immediate pay off anyway.
Absolutely not. Some people looked at us as if to say, "are you quite sure you want to do this, this way." But if you said Jozy Altidore was one talent you exported, not only did he do extremely well for the Red Bulls, but you then export him as a country, and he does well with the national team, or he has a transfer value, and that's the equation. You invest in youth to sustain the business moving forward.
The first rumor with Paul bought the team was that it was going to be a traveling all-star team. That's been shot down by you guys in the past already, but now these inspirational games have me wondering. Are we talking joining a D-2 league for a season or two or strictly exhibition games with names that will never be on the MLS team?
We're looking at and will have a PDL team for the younger group. I use the term inspiration team as opposed to exhibition team. I want to bring in some of the best players in the world to play inspiration games for the Cosmos, but I want to put some of our academy kids along side them, to learn from them, when we play our games. The first game will be next summer in the U.S. And then the other two will probably be international friendlies. 2012 will probably be a combination of 3 games here and 3 games internationally. So the idear is to give the Cosmos fans a number of games that are here before the proposed MLS team, to build that fan base again.
In a perfect world, when would you sign your first player?
We will have to sign players to play in the games this coming January. So there will be signatures from players on contracts for next year's games this coming January onwards. For a supposed MLS team, it would be the year before. There will be two different types if you like.
I'm curious to pick your brain about your learning curve coming into MLS. Your time at the Galaxy is well known, but what even did you know about MLS before that, and what has your experience thus far taught you?
I do understand it a little bit better from working with Tim Leiweke and the Galaxy guys a few years back. I had to gain an understanding of it then, and I think things are changing year on year. I think the league evolves. I think the commissioner has done a tremendous job, genuinely, on growing and developing the league worldwide. Each year there is a slight salary increase, or there's an adaptation of the number of marquee players. All the things are being done positively step by step by step, nothing drastic that could come back to bite the league.
What did you learn from your time at the Galaxy and what will you take from that here with the Cosmos?
I learned that 3-4 years ago, there was no youth structure. And that's why we're doing it like we're doing it. If you speak to the guys in Vancouver, or to Joe Roth in Seattle, they are investing heavily in their youth structure, because they know it's the way to produce their own players for the future. That's a major change, but there are so many things that you are good at in the U.S.—talk about surgery and things on the medical front where you were very advanced compared to Europe in some cases, but there were other things when I first went to the Galaxy that they weren't doing, that in Europe we were doing tens years ago. So I think the integration of some of the marquee players helps. I think that is what evolved the Premiership, when Gianfranco Zola, Gianluca Vialli came over.
When it became the global league.
It did. Dennis Bergkamp changed the mindset at Arsenal if you speak to their players. After the game they used to drink in the players bar. But Dennis explained to some of the players that drinking alcohol after exercise dehydrates the body. It's just what they did ten years ago. Today I think he has transformed that side of it. What the players eat—diet and nutrition has become critical now. I look at David's rehabilitation from his Achilles injury. He came back within five months. And two or three years ago, players weren't doing that.
Or before that perhaps his career would be over.
Yeah, and quite possibly with a lesser character, it might have, but I think worldwide soccer has got so much faster, it's improving technically, and I think the same is happening here in the States.
What specifically were a few of those things that the Galaxy weren't doing that they were doing in Europe?
Even just silly things like after training, players weren't provided with the right carbohydrate meals, or food wasn't being supplied. I'm not gonna name the kid, but one of our best players at the time was leaving training and going to McDonalds. When you sat down and analyzed the salary he was on, the reason he was going to McDonalds is that was all he could afford after training. So I think as the salary cap improved, those players earned slightly more money, so I think the players are benefiting more and more over the last few years from the training. But it has taken the owners of MLS to be willing to make those changes.
I know Tim will do whatever it takes to make the Galaxy more successful, so he's always been open to ideas in a positive way and was never ever once, "You're not going to do that because it costs us more money." What he actually asked me to do was act as a consultant to him and look at three or four things. One was scouting; how do you identify players and set up a scouting network? Two was the youth academy. Three was diet and nutrition, physiotherapy and fitness training. Well, those were things that probably we were ahead on slightly in Europe because of the evolution of the league. I think he made a lot of positive changes for the Galaxy, which the players there now are reaping the benefit from.
One of the last quotes I read from Tim about your time at the Galaxy is that he considered you still friends but that you probably weren't too happy with him. Is that relationship repaired? What do you take away from your time there, the Beckham Experiment book by Grant Wahl…
It's really interesting.
…the secret hierarchy that was said to be going on?
Yeah. I'll talk about Grant's book first. When Grant wrote the book, he called me afterwards, having not spoken to me, and asked me to explain my side of things. When I explained it, his words to me was, "I wish I had spoken to you beforehand; the book's already gone to print." I said, look Grant; I'm a big boy. I've been in the game a long time. I've got broad shoulders. If people want to paint me as the bad guy, I'm an easy scapegoat, not a problem. I had a great relationship with Tim, and if I saw him today I'd give him a hug, just as he would give me a hug. I have nothing but respect for Tim and what he has achieved, and as a person, he is a great great man. If he thinks that I am angry with him about the way that it was ended, I think it was just because I was hung out to be the scapegoat at the time. I wasn't the only person who recommended Ruud Gullit at the time, and you know, you live by your mistakes. If it was a mistake at the time, it was, but I have nothing against Tim whatsoever.
—-
EDIT: I spoke to Grant Wahl after speaking to Terry; this is what Grant said about the phone call:
"I wanted to make sure he was saying this on the record because the conversation took place on background and the agreement was I would not name him, and I held to my end of that agreement. I never said publicly that I spoke to him. But if he is saying on the record it happened, then I feel like it's ok for me to comment on it. I told him at the time that it was right before we began to close on the book, but that we could have a few changes that could be made, and a few changes were in fact made. It wasn't as extensive as maybe he would have liked, but it added to the context because he was providing his side of the story, which I had been looking for for a long time. I would say for almost two years I repeatedly asked Simon Oliveira, David Beckham's representative, if he could set up an interview between me and Terry Byrne for the book, and they never agreed to it. I said I would go anywhere on Earth to meet this guy. The only reason a conversation took place was because the first press release came out for the book a few months before it came out, and it talked about how, if I recall correctly, Beckham and his best friend Terry Byrne engineered a shadow take-over of the Los Angeles Galaxy. And only once that went public did I get a call saying Terry wanted to talk to me now. We had a fairly lengthy conversation; I remember saying to him, 'Terry, it would be nice if this conversation had taken place several months ago. Then I could have gotten more of your voice into the story and had that perspective.' It was a cordial conversation. I spoke to him again a few weeks ago about Cosmos stuff, and I am hoping to meet him up in New York again for lunch pretty soon here."
—-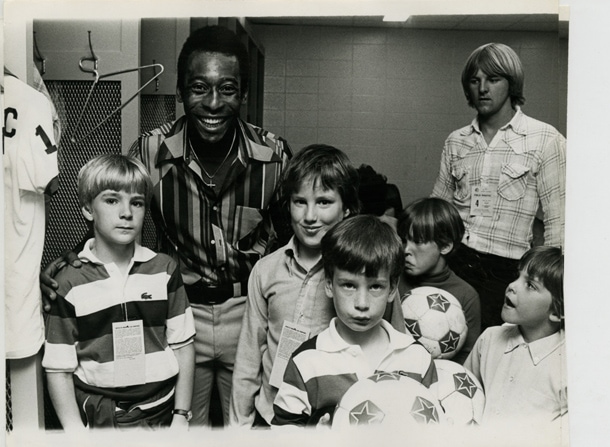 —-
Is the youth development the biggest thing you learned at the Galaxy? Is it that important in your mind?
Two things: one is the style of play you have to have. Bruce has done a fantastic job and instilled his style of play, and for the Cosmos, I think we have to have an entertaining style of play. I'm sure everybody will be saying it's all about winning. For me, it's just as important, the Cosmos are, to play an entertaining style of football. So our under-8's currently are playing the same style as the under-18's. They play a 4-3-3.
Easier said than done, but a man after my heart.
Yeah, but there is a reason behind it. If you analyze what Cruyff did going to Barcelona, Pep Guardiola is the first team coach, but he played in that system. So it's no coincidence when Spain goes on to win the World Cup, and they have 8 out of the starting 11 at Barcelona.
You could argue for Germany too, at least playing a much more entertaining style than years past.
And Jurgen changed that. Look at what he did with that team. In six months he completely transformed them. The way Spain play, I'd pay every week to watch that if I could. Every day you want to watch a game with that style of play. We've gone from big physical midfield players to Iniesta being one of the best players in the world to watch. David Villa as a striker—his movement. And that's not even mentioning Lionel Messi, you know? So we'd like to play a 4-3-3, and we will teach it from a young age to our first team.
Did you pull some of your youth knowledge through the Beckham academies?
Not really. His academy was built off the back of, originally, David giving something back to the sport. We were never about elitism. We took boys and girls who never kicked a ball before and gave them a fun experience. The only thing that it taught me is in building facilities and stuff like that, the infrastructure. I now know what is needed for an academy, where as at Chelsea, I wasn't very involved in that.
The most recent press there of course was it disappearing. Was there a main reason for that? Did it fail, or was it just a personal or business decision?
No, the truth be known, the London one, firstly, was a fantastic facility, but it was on a short lease on land. We could only have it for five years, and then it was going to be a part of the London Olympic facilities. So it was only going to be for five years in London. In Los Angeles, we never built the facility we said we were going to build. And that was probably an AEG decision based on David's potentially going to Milan or wherever, and I think that all came to a grinding halt.
And the last $60,000 Beckham question relating to the Cosmos—the clause in his MLS contract that says he can be a team owner when he retires. With your involvement, people want to assume he is joining you guys. Is he?
It's really funny because I had dinner with him this week in Los Angeles. And I said to him, every time my name is mentioned everyone thinks it's because of David that I am doing this, or David is behind it.
Not really knowing you had left David at the time, and though impossible to avoid the connection, I kind of saw it initially as a surprise: Terry's stepping out.
Completely you are correct. But there was a phase between—I managed David for a reason. One, he was my best friend at the time, and we still are the best of friends. I am godfather to his kids, and he is godfather of my son. I did it for a five-year period. We agreed that I would do it for a period and step away from it. When David went to LA, I went and had the school done for the kids; I went and got the house. I was secure that Tim would look after David, and then it was my time to step away. I then had our first child at home back in the UK; I also represented the England current squad commercially. I own the company that manages the England commercial program. So I concentrated on that for the next two or three years and this opportunity came up.
So, it's very much me doing something for me, for my family. I keep David abreast of the situation of course. Everybody says to me David, Pele, and the Cosmos are a golden ticket, but I don't think that's the plan. I don't think that that's—David has an option on a franchise definitely, but it was never our intention, and even in the board meeting we had recently, we discussed it because everybody is mentioning it. It's not our intention to approach David. We are the New York Cosmos. If David wants to join us in a couple of years, fine, but right now it's not on the agenda. Genuinely, it's not. And I wouldn't be that disrespectful of Tim in LA. David is a LA Galaxy player and has another year on his contract. And that's what everybody forgets.
It would seem to me that if you learned anything from LA, it was that one guy does not make a team, much less a league. Which so relates to the Cosmos history. David got the stadium treatment of big crowds the first season or so, but then it went back to normal for the most part.
I agree. You need more than one player on any team that is marketable. I think the Red Bulls have done a tremendous job in getting Marquez. I think he will be as influential as Thierry if not more with the Hispanic and Mexican community, but I think you need three or four potential marquee players in any club. I remember when Tim and I were discussing, more than a year before David was coming, we were talking about bringing Zizou, David, Ronaldo, and four or five players out of Real Madrid that could have had a major impact on the league. And for whatever reason that didn't happen, but I don't think any one player can change a league for sure. I think you can raise the profile slightly, but are you going to affect results week in week out? No, one player can't do that.
As Director of Soccer, what are you looking for then? What is your perfect team?
My perfect team is a combination of homegrown and international players from wherever they may be. If that's the best players from the U.S. and some from Europe, that would be my dream. I won't unveil my dream team because we will probably never get to it, but I'm thinking positionally specific. There are certain players that suit the 4-3-3, and I will play around with that on a little board week in week out. We had a really good meeting with Gio Savarese and Teddy Chronopoulos (director of LA academy) about what kind of system we would play. I said go away and write down your starting 11 in that system. And it's amazing how many players you come up with that are similar in their positions, but if I said in the holding midfield position the best I've ever seen is Claude Makelele, and then use that player as an example of what you are looking for, then you have to look to develop those kind of kids. If I say Marcus Cafu at right back, you need someone who is up and down. Got the engine to get up and get back—that's the style of players we are looking at, not necessarily the player.
I'd love to see more defenders like that. There's not too many of those here.
Chris Albright, before he was injured.
Bornstein.
Bornstein is a good example, but there aren't that many players like that in Europe.
A big defensive signing would be a different approach. Are you open-minded enough to throw a DP spot on an outside back?
I remember Glenn Hoddle when he first came to Chelsea. He said he wanted to sign Laurent Blanc as a sweeper. He wanted Paul Ince, Les Ferdinand, and Alan Shearer as a spine for his team. He said if you build the spine strongly, everything else around it will feed off of it. I think if you were allowed to bring in a great keeper, a central defender, a midfield player, and a striker, you'd have a great formation of taking the team to a new level.
Right now the Cosmos rest in the eyes of most fans as little more than a marketing engine. There is some worry, some cynicism, 'oh what is this going to be?' One of those people walks up to you on the street and recognizes you: "Terry, what the hell is going on with the Cosmos? I see a bunch of posters, but am I supposed to buy into this?" What do you say? What's your sales pitch?
Judge me by my actions, not by the words at the moment. Within six months people will realize what we're doing. From January onwards, once we start to announce the games, the players. I think after the first game that we celebrate next summer, and it will be a celebration game as opposed to any normal game. Next year is the 40th year since the birth of the Cosmos. So next year will be a massive celebration of the rebirth if you like, but judge us on our actions. We are going after the MLS franchise, we are going after building a stadium, we are going after the MLS team, then judge us over the next two or three years, not at the moment. You need something. The marketing side as you quite rightly say is what people are seeing, because you need people to be aware that it is coming back, but then we have to back up what we're talking about. I didn't leave what I've been doing in England—running the England national team's commercial program for the last four years and move my wife and family out here because I didn't believe it was substantial enough for us to deliver what we say we are going to deliver. So that is why I am here.
—-
—-
Check back in the coming days for Part 2 of The Cosmos Interviews, with Executive Director Joe Fraga, where we dig deeper into the Cosmos' grassroots progress. It will be posted soon at This is American Soccer! During that time you can read our very own Seth Sawyers' background story.