Football is more than just a game; it's a lifestyle, requiring unparalleled commitment and sacrifice. This article delves into the personal life of Lionel Messi, focusing on his family bonds and domestic life.
A Look at the Lionel Messi's Family Tree
Even on the gridiron, familial ties run deep, and Lionel Messi's roots are a testimony to that fact. From Rosario, Argentina, Messi hails from a humble, hardworking family that has played a vital role in his rise to global stardom. Let's begin our dive into Messi's family tree.
Like every significant tree's structure, Messi's family tree has several robust branches, each with its own unique contribution to the celebrated footballer's journey. This tree includes his parents, his siblings, his wife, his children, and a host of relatives and close friends who share invaluable bonds with Lionel Messi.
Starting with Messi's parents, Jorge Messi and Celia Cuccittini, they have been the pillars of support throughout his life. Jorge, a factory steelworker, and Celia, a part-time cleaner, instilled in their son the values of hard work, determination, and perseverance. Their unwavering belief in Messi's talent and potential propelled him forward, even during the toughest times.
Messi's siblings, Rodrigo and Matias, have also played significant roles in his life. Growing up in a small apartment in Rosario, the three brothers shared a deep bond and spent countless hours playing football together in the streets. Rodrigo, the eldest, always encouraged Messi to dream big and supported him in pursuing his passion. Matias, on the other hand, acted as Messi's confidant, providing a listening ear during challenging moments.
As Messi's fame grew, so did his circle of close friends. One of his closest friends, since childhood, is Ezequiel Fernandez, who has been by his side through thick and thin. Ezequiel, a talented footballer himself, often joined Messi in training sessions and friendly matches, pushing each other to become better players. Their friendship has stood the test of time and continues to thrive to this day.
Of course, we cannot forget Messi's wife, Antonela Roccuzzo, whom he married in 2017. The couple first met as children in their hometown of Rosario and reconnected years later. Antonela has been Messi's rock, providing unwavering support and stability amidst the whirlwind of fame and success. Together, they have three beautiful children – Thiago, Mateo, and Ciro – who are the pride and joy of their lives.
Expanding beyond immediate family, Messi's extended relatives have also played a significant role in shaping his journey. His maternal grandparents, Antonio and Celia, were his biggest fans from the beginning, attending every match and cheering him on with pride. Their unwavering support and love provided Messi with a strong sense of belonging and motivation to excel.
As Messi's career skyrocketed, so did his impact on the global football community. He became an inspiration to millions of aspiring young athletes around the world. Countless fans, from Argentina to Barcelona and beyond, have formed an unbreakable bond with Messi, idolizing his talent and admiring his humility.
In conclusion, Lionel Messi's family tree is not just a mere collection of names and relationships. It is a testament to the power of love, support, and determination. Each branch of this tree has contributed to Messi's success, both on and off the field. As we continue to witness his remarkable journey, let us not forget the people who have stood by him, shaping him into the legendary footballer he is today.
Father – Jorge Messi
Jorge Messi, a factory steel worker, is Lionel Messi's father. From a young age, Jorge recognised his son's talent and made every effort to nurture it. This involved taking the young Messi to his first football club, Grandoli, where he began developing his stellar skills.
Jorge's role did not stop at being a facilitator; he also guided Messi through his career, serving as his manager and mentor. His father's influence is clear in Messi's life, both professionally and personally.
Jorge Messi's dedication to his son's football career is truly remarkable. Despite working long hours at the steel factory, he always found time to support Messi's passion for the sport. Whether it was driving him to training sessions or cheering him on from the sidelines, Jorge was always there, providing unwavering encouragement.
As Messi's talent continued to flourish, Jorge took on the role of his manager. He negotiated contracts, handled media relations, and ensured that his son's best interests were always protected. It was a challenging position, but Jorge embraced it wholeheartedly, determined to give Messi the best opportunities to succeed.
Off the field, Jorge Messi played an integral role in shaping his son's character. He instilled in Messi the values of humility, hard work, and perseverance. Despite Messi's fame and success, he remains grounded, a testament to the upbringing provided by his father.
Jorge's influence extends beyond the football pitch. He has been a pillar of support for Messi during the ups and downs of his personal life. Through thick and thin, Jorge has been there to offer guidance, love, and understanding. Their bond as father and son is unbreakable, serving as a source of strength for both of them.
It is evident that Lionel Messi owes a great deal of his success to his father, Jorge Messi. Without his unwavering belief in his son's abilities and his tireless support, Messi's journey to becoming one of the greatest footballers of all time would not have been possible. Jorge's dedication and love for his son have played a significant role in shaping Messi's career and life as a whole.
Mother – Celia Cuccittini
Celia Cuccittini, Lionel Messi's mother, has been the player's biggest cheerleader from the sidelines. She played a crucial role in his development and continues to embody an unyielding source of love and support.
From the early days of Messi's childhood, Celia recognized her son's passion for the beautiful game. She would often be seen in the stands, brimming with pride as she watched him dribble past opponents with ease. Her unwavering belief in his abilities fueled Messi's determination to succeed, providing him with the confidence to chase his dreams.
Although less involved in the technical dimensions of Messi's career, Celia has been instrumental in grounding him and reminding him of his roots. Growing up in Rosario, Argentina, Messi faced numerous challenges and obstacles. It was Celia who instilled in him the importance of staying true to his values and never forgetting where he came from.
As Messi's fame and success grew, Celia remained a constant presence in his life, ensuring that he remained humble and grateful for his blessings. She would often share stories of their humble beginnings, reminding him of the sacrifices made by their family to support his footballing ambitions.
Beyond being a supportive mother, Celia also played a vital role in shaping Messi's character. Her strong sense of family values and unconditional love have become the pillars of his identity. Messi has often spoken about the profound impact his mother has had on his life, crediting her for his humility and grounded nature.
While the world may know Lionel Messi as a global superstar, it is Celia Cuccittini who knows him as her beloved son. Behind the scenes, she remains his guiding light, offering unwavering support and guidance through every twist and turn of his extraordinary journey.
Siblings – Rodrigo Messi, Matías Messi, María Sol Messi
Lionel Messi, the legendary Argentine footballer, is not just a sporting icon but also a devoted family man. He shares a special bond with his three siblings: Rodrigo Messi, Matías Messi, and María Sol Messi. Together, they have formed an unbreakable bond, built on love, support, and a shared passion for the beautiful game.
While Lionel Messi's name reverberates around the world, his siblings have chosen to lead relatively private lives. However, their influence on his life and career cannot be understated. Rodrigo Messi, the eldest of the siblings, has been a pillar of support for Lionel throughout his journey. As a loving brother, Rodrigo has always been there to offer guidance, encouragement, and a listening ear during both the highs and lows of Lionel's career.
Matías Messi, the middle child, has also played a significant role in his brother's success. A talented footballer himself, Matías has shared Lionel's love for the sport since they were young boys. While he may not have achieved the same level of fame as his younger brother, Matías has made his mark in the football world by working behind the scenes. Currently, he serves as a key figure in the management team of Messi's brand, ensuring that Lionel's global image remains true to his roots and family values.
María Sol Messi, the youngest of the Messi siblings, brings a refreshing perspective to the family dynamic. As the only sister, she has always been a source of joy and laughter for her brothers. While not directly involved in Lionel's football career, María Sol's unwavering support has undoubtedly played a crucial role in his personal life. Her presence serves as a reminder to Lionel of the importance of family, love, and balance amidst the demands of his professional commitments.
Together, the Messi siblings form a tight-knit unit that has weathered the storms of fame and fortune. Their unwavering support, shared experiences, and mutual admiration have created a solid foundation for Lionel's success. While the world may know Lionel Messi as an extraordinary footballer, it is his siblings who have witnessed his journey from the very beginning and continue to stand by his side, ensuring that he never loses sight of his roots.
Wife – Antonela Roccuzzo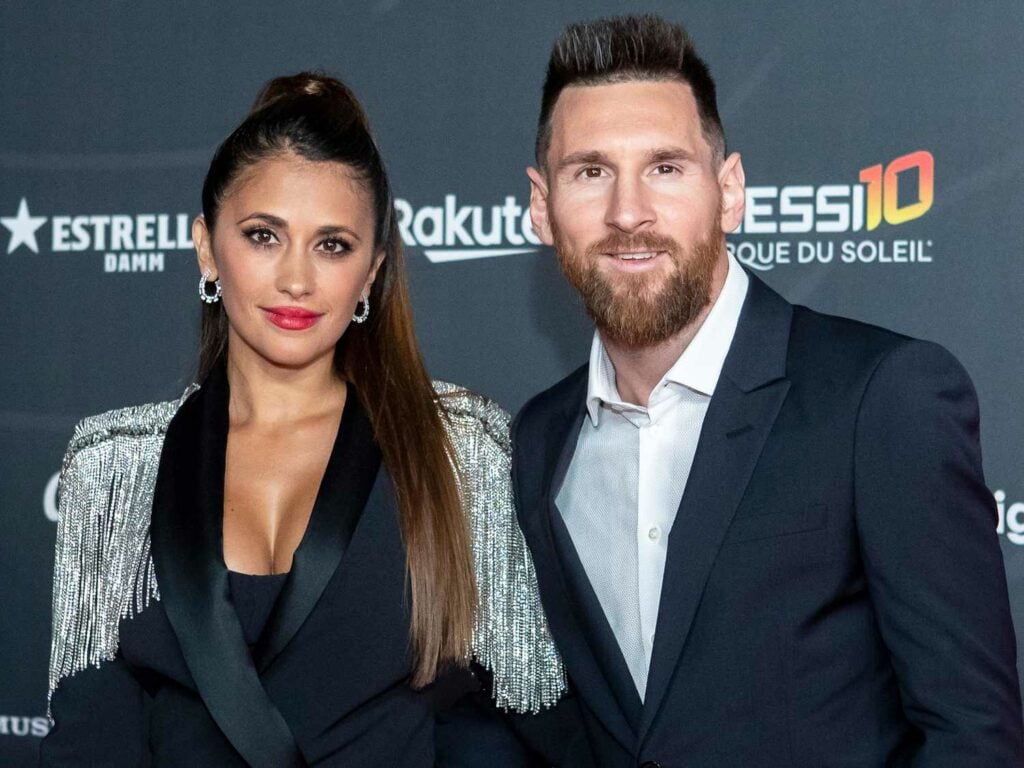 In June 2017, Lionel Messi married his childhood sweetheart, Antonela Roccuzzo. The pair have known each other since Messi was five years old. Antonela has been a constant in Messi's life, providing him with stability and fervent support through his meteoric rise.
From their early days of playing together on the streets of Rosario, Argentina, to their grand wedding celebration, Lionel Messi and Antonela Roccuzzo's love story is one for the ages. Their bond was forged in the neighborhood where they grew up, their shared experiences shaping their connection from a young age.
As Messi's talent on the football field became evident, Antonela was always there, cheering him on from the sidelines. Her unwavering belief in his abilities and her unwavering support have been instrumental in his journey to becoming one of the greatest footballers of all time.
Together, they've stood strong in the face of professional victories and losses. Whether it was Messi's historic four Champions League titles or his heartbreaking defeats in major tournaments, Antonela has been his pillar of strength, offering solace and encouragement during both triumphs and tribulations.
Antonela's steadfast companionship and dedication have undeniably had a positive impact on Messi's career and personal life. She has been his rock, providing him with a sense of grounding amidst the whirlwind of fame and success. Their love story is not just about two individuals, but about the power of unwavering support and the strength that comes from having someone by your side through thick and thin.
Off the field, Lionel Messi and Antonela Roccuzzo are loving parents to their three beautiful children. Their family life is filled with joy, laughter, and the simple pleasures of spending quality time together. Despite their fame and fortune, they remain down-to-earth and prioritize the values of love, family, and humility.
Antonela's influence extends beyond her role as Messi's wife. She is also a successful entrepreneur and philanthropist in her own right, using her platform to make a positive impact on the world. Together, Lionel Messi and Antonela Roccuzzo are not just a power couple, but a force for good.
As Messi continues to dazzle the world with his extraordinary skills on the football pitch, Antonela will undoubtedly be there, supporting him every step of the way. Their love story is a testament to the power of childhood sweethearts who grow together, face challenges together, and ultimately, achieve greatness together.
Children – Thiago Messi Roccuzzo, Mateo Messi Roccuzzo, Ciro Messi Roccuzzo
Further enriching Messi's life are his three children: Thiago, Mateo, and Ciro. These young seeds from the Messi family tree are not only a joyous part of his life but also possible future torchbearers of the Messi legacy within football.
Despite their young age, they often feature on Messi's social media platforms, each moment reflecting the depth of Messi's love for his family and only reinforcing his image as a dedicated father.
Lionel Messi Cousins and Close Friends
Like any family tree, Messi's branches extend beyond his immediate family. His cousins and close friends also form an integral part of his support system. They've been part of his journey, either sharing the podium with him during his victories or standing by his side during his challenges.
Family Support in Lionel's Football Journey
The support network of Messi's family has been significant throughout his football journey. From his parents' early recognition and nurturance of his talent, to his wife and children's unwavering support during his most challenging periods, the Messi family unit has been a cornerstone of his success.
Moreover, the unity portrayed by his siblings through their varied contributions to Messi's brand symbolizes the strength of his family ties and their collective commitment to his success.
Future Prospects and Family Continuity
As Messi navigates football's unpredictable landscape, family continuity remains an essential part of his journey. As his children grow, the prospects of another Messi carrying his legacy proudly into the future instills hope and excitement among football fans.
In conclusion, Lionel Messi's story cannot be told without acknowledging his family's role in shaping his career. Their profound influence, ongoing support, and unbreakable bonds reinforce the importance of family within his life, making Messi's story a testament to both personal triumph and familial unity.