In this article you'll find a list of the best soccer cleats under $100 you can buy today. We've reviewed and listed all the pros and cons of these cheap soccer shoes for you!
Best Soccer Cleats Under $100
Looking for some of the best soccer cleats under $100? If you have ever played soccer, you know the importance of quality footwear! Be it a forward, defender, midfielder, or goalkeeper, a good pair of soccer cleats is a must-have!  But let's face it, all soccer cleats have a limited usable life, which mostly extends up to a maximum of two or three seasons. Why? Because almost everything about soccer has to do with feet. Your soccer cleats will be put through a lot of abuse – running, diving, jumping, tackling, kicking, passing, and more! So even if you buy a high-end pair of cleats by paying hundreds of dollars, it will likely not last long enough to justify its cost.
It should come as no surprise that soccer players and enthusiasts look for reasonable pairs of soccer cleats. And it's only because of their cost-effectiveness. After all, who wouldn't prefer a lower-priced pair of soccer cleats that can last for a couple of seasons? To save you the trouble of skimming through hundreds of options, we have shortlisted six of the top soccer shoes that cost less than a hundred bucks. You can rest assured about the quality of these soccer cleats. Our selection of the best soccer cleats under $100 you can buy is listed below.
1. Diadora – Men's Capitano MD VS Outdoor Soccer Shoes
We start things off with the Diadora Men's Capitano MD VS Outdoor soccer shoes from the Italian brand Diadora. Sporting a good quality polyurethane synthetic upper, it offers a soft yet firm grip, which appeals to both novices and pros. What's more, its lightweight design assists adequate acceleration on the ground.
Product Highlights
Shock-absorbing EVA foam
Rubber MD outsole
Phylon sole
The Good
To be honest, the first thing that grabbed our attention was its super affordable price tag. And it didn't take us long to figure out that these are among the best soccer cleats in the $20 to $50 price range. The cleats are made of 100% synthetic materials, which is one of the primary reasons for their affordability. However, that doesn't degrade the overall quality.
For one, the lightweight construction means that you can play for hours without feeling any significant fatigue on your feet. It provides ample room for feet breathability to prevent blisters. While the fixed cotton EVA foam insole provides adequate shock absorption ability, the rubber MD phylon outsole offers a fair amount of traction on natural hard surfaces.
We were also impressed with its flexibility that adjusts to different foot positions without affecting your speed. Talking about the stud configuration, we liked how the small studs help in the uniform distribution of the bodyweight for decent arch support and ball control.
Finally, it's available in two color combinations, black-yellow and navy blue-red.
The Bad
Although it's available in multiple sizes, we feel that the cleats are more suited for wide feet players. You might try a bigger size, but that may loosen the overall grip. In that sense, it might have limited utility. But other than that, we don't really have a lot to crib about, considering its pocket-friendly price tag.
Diadora Men's Capitano MD VS Outdoor Soccer Shoes
Pros:
Flexible and Comfortable

Good traction on natural hard surfaces

Shock-absorbing Sole

Available in Two Colors
Cons:
More suitable for wide-footed players
View on Amazon
We earn a commission if you make a purchase, at no additional cost to you. Thank you for supporting us - we're very grateful!

2. Adidas – Predator 20.3 Firm Ground Soccer Shoes
Next up, we have the Adidas Predator 20.3 Firm Ground soccer shoes making an entry on the list. These soccer cleats for men under $100 by Adidas are engineered for better stability and comfort without compromising control. With a Demonscale upper design, these sturdy boots offer just the right amount of traction for going after the ball.
Product Highlights
One-piece textured upper
Lightweight TPU sole
Laced up design
The Good
To begin with, we appreciate the white, metallic gold, and black colored design that breaks the monotony of single solid colored boots. Unlike the Adidas 20.1 soccer cleats, these have been developed using a certain Demonscale technology, comprising a polyurethane-coated textile upper. In simple words, this takedown version still features considerable rubber elements for providing excellent swerve on the ball while reinforcing control.
Hence, you don't have to worry about compensating ball control with acceleration. Here, we should also mention that the design lacks a tall collar compared to some of its competitors. In tandem with the low-cut structure, it offers seamless wearing and removal of the shoes. The lightweight TPU sole is integrated with a number of strategically placed traction studs to enhance stability on natural hard grounds.
Furthermore, the full lace fastening design means users have the liberty to customize the grip for secure foot lockdown. Finished off with the stylish Adidas and Predator logos, these shoes are a good option if you're looking to get the Predator line on a budget.
The Bad
Some users may feel that the lack of a feet collar per se may interfere with the grip. That's why we'd recommend wearing them with high-length socks for a tight grip. And similar to its predecessor, wide-footed players may have to give these a pass.
Lastly, the white upper can get dirty very quickly, thereby adding to the maintenance efforts.

3. Adidas – X Ghosted.3 Firm Ground Soccer Cleats
The next recommendation is yet another pair of soccer cleats from Adidas, and this time it's the Adidas X Ghosted.3 Firm Ground soccer cleats. Designed with speed in mind, this foot-hugging pair is earmarked with a low-cut silhouette construction for prolonged stability and offers the best soccer playing experience.
Product Highlights
Lightweight TPU outsole
Stretch tongue
Speedskin upper with lace closure
The Good
To begin with, let us give you an interesting fact: this line of soccer shoes holds the distinct reputation of being the only boots featuring a synthetic upper on the market. The upper is made from Speedskin for maximum durability and sturdiness. At the same time, the toughness on offer makes it extremely suitable for regular rough use.
We also liked how the overall structure does away with unnecessary layers. The interior is basically a mesh-patterned soft material, which doubles as the liner in the absence of a physical liner per se. That said, there are certain areas with layer reinforcements for better safety. Nonetheless, the lightweight TPU sole renders a barefoot sensation, which is quite sought after.
Following a cut-out demarcation, the soft upper changes to a more synthetic-mesh near the heel region. While the low-cut silhouette features a typical Clawcollar-shaped entry for unmatched grip, the stretch tongue and lace closure let you adjust the grip of the cleats as per convenience.
The Bad
We did notice a couple of downsides. For one, the "X tail" of the entry point is a bit stiff, meaning it can cause rubbing and blistering during the first few wears.
Secondly, these boots aren't as light as other comparable pairs on the market, so first-timers may take a little time to get adjusted to the weight.
adidas Men's X GHOSTED.3 Soccer Shoe
Pros:
Stretch tongue for comfort positioning

Firm and locked grip

Soft-to-touch

Semi-translucent appearance
View on Amazon
We earn a commission if you make a purchase, at no additional cost to you. Thank you for supporting us - we're very grateful!

4. New Balance – 442 Team Firm Ground Soccer Cleats
Our next best soccer cleats under $100 are the New Balance 442 Team Firm Ground soccer cleats made by New Balance. These classic-looking soccer cleats integrate the latest material and technology for optimal comfort and grip. Based on the classic 4-2-2 formation theme in soccer, the blend of engineering and refinement offers superior control on both AG and FG surfaces.
Product Highlights
Full-grain leather vamp
Perforated synthetic PU collar
Molded EVA insert
The Good
Design-wise, we didn't notice anything really eye-catching in this pair of soccer cleat. The all-black boots have a white accented "N" and white soleplate, while the fold-over tongue has the 422 and NB logos. But an all-out highlight is the full-grain leather vamp that's meant to enhance durability and player control. Likewise, the supple K-leather upper and thin polymer soleplate account for maximum comfort. The latter is integrated with an improved conical stud configuration for 360-degree rotational traction, especially on firm pitches.
We also appreciate the perforated synthetic PU fit collar that reinforces the grip around the heel along with the lace opening. The fold-over tongue is equipped with a square piece of velcro to hold it down to the bottom of the lace region.
As far as the fitting is concerned, it's pretty comfortable and true-to-size, which is suitable for players having medium to wide fit. The molded EVA sole insert helps increase comfort and has a removal design for easy replacement.
The Bad
For one, the velcro strap can sometimes interfere with the lace. Also, the thick leather layering near the toe box takes away a bit of the speed and control while passing the best soccer ball. Hence, the shoes may have been designed with midfielders and designers in mind. While the K-leather may stretch over time, it initially makes room for only medium to wide foot shape.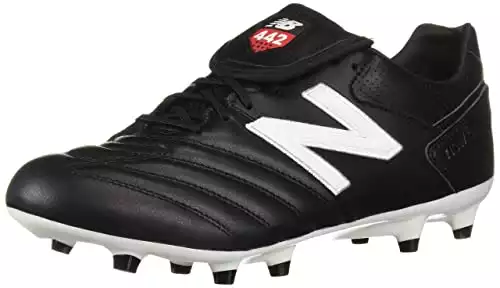 New Balance Men's 442 Team Firm Ground V1 Soccer Shoe
Pros:
Pliable construction

Studs offer 360-degree traction

Removable EVA insole

For use on AG and FG surfaces
Cons:
Lacks velocity and ball control
View on Amazon
We earn a commission if you make a purchase, at no additional cost to you. Thank you for supporting us - we're very grateful!

5. Nike – Men's Soccer Mercurial Superfly 7 Academy MG Soccer Shoes
The next pair of best soccer cleats under $100 we have picked for you comes from the globally-renowned brand of Nike. The Nike Men's Soccer Mercurial Superfly 7 Academy MG soccer shoes are available in two colors – blue and black, and in 12 sizes, ranging from 6.5 to 12. It costs between $48 and $90, depending on the size and color.
Product Highlights
Textured, soft, and synthetic construction
Sockliner providing lightweight cushioning
Higher plate toe overlap
The Good
We purchased a size eight black color pair. And straight off the bat, we fell in love with its design and look. The entire shoe is textured from heel to toe, which looks not only amazing but also offers a comfortable touch. What sets this pair of cleats apart from its peers is its dynamic collar work and impeccable lining, which work together to wrap your feet. It almost feels like a second skin on your feet!
We especially appreciated the thoughtful inclusion of a sock liner, which adds lightweight cushioning. It offers versatile traction, thanks to a Nike Aerotrak zone in the front and a multi-turf plate. You can use these cleats on artificial as well as natural grass soccer pitches. The heel counter, midsole, insole are all made of top-notch synthetic materials.
The Bad
The only downside we observed was that the shape of these cleats could run a bit narrow, especially for people with wide feet.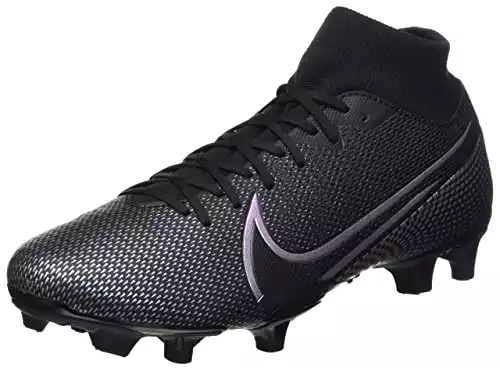 Nike Men's Football Shoe, Black, 6.5
Pros:
Excellent value

Can be used on natural and artificial grass surfaces

Incredibly comfortable and feels almost like a second skin
Cons:
Bit narrow and not suitable for people with wider-than-average feet
View on Amazon
We earn a commission if you make a purchase, at no additional cost to you. Thank you for supporting us - we're very grateful!

6. PUMA – Ultra 3.1 Firm Ground Soccer Cleats
Our final recommendation on the soccer cleats under $100 list is the PUMA Ultra 3.1 Firm Ground soccer cleats produced by PUMA. Termed as the latest "lightweight soccer cleats" from the brand, it helps provide rapid acceleration to keep you on the top of your game. It has been designed the right way for comfortable wearing on natural grass and artificial surfaces.
Product Highlights
TPU SpeedUnit outsole
GripControl Pro coating
Lightweight Matryxmesh upper construction
The Good
Beginning with the weight factor, these men's soccer shoes have an extremely lightweight design that can well compete with the Nike Mercurial Vapor and Adidas X. In this regard, Puma has worked on a technology to develop a thin yet highly durable Matryxmesh structured material, which makes for a top-quality upper. By striking the right balance between rigidity and flexibility, the cleats offer ample support during fast forward motion.
The GripControl Pro coating on the shoe keeps the player in total command of the ball during aggressive play. For traction purposes, the ultra-fast SpeedUnit outsole has high-quality running spikes for smooth acceleration. The carbon and aramid fibers woven into the lateral side of the upper make the cleats adequately durable to maintain their shape and grip while you dribble past your opponents.
Furthermore, the upper is integrated with a sock collar for a snug and comfortable fit. Considering the relatively affordable $50 to $80 price range, this pair of soccer cleats don't leave a lot of room for complaint.
The Bad
Some soccer players may find the soleplate to be less rigid and low on the spring-back effect. And although the soleplate is compatible with AG and FG turfs, the long studs may cause a little problem while playing on firm surfaces.
PUMA Men's Ultra 3.1 Firm Artificial Ground Soccer-Shoe
Pros:
Track spike-inspired outsole for traction

Full lace closure

Chevron-shaped bladed stud design

Sock collar for snug fitting
Cons:
Less rigid soleplate and long studs
View on Amazon
We earn a commission if you make a purchase, at no additional cost to you. Thank you for supporting us - we're very grateful!

Conclusion
It all boils down to getting the most bang for your buck! Unless you are a professional playing for a famous club, saving your hard-earned money by opting for cheaper cleats is a wise decision. Budget soccer cleats are ideal for youngsters or beginners who do not have the funds to purchase high-end soccer gear for practice. These are the best soccer cleats under $100 that you can buy, and we're pretty sure they won't disappoint.